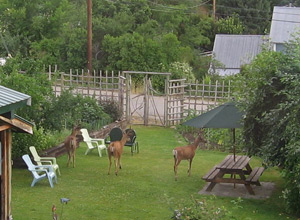 The Gardens
The Inn and gardens are sited on ½ acre in the Town of Twisp and include a beautiful courtyard with 100 year old silver maples, more that 20 fruit trees, formal gardens and many wonderful places to sit and enjoy the ambiance and the peace and quiet.
The gardens are a wonderful part of the Inn, providing beauty as well as vegetables, fruits, herbs and flowers. For the last several years they have been restored and lovingly cared for by the current Inn owners.  You will see the bounty of the harvest displayed on the beautiful wall of canned goods, some of which you may be enjoying during your stay. As Inn guests, please feel free to graze among the Raspberries, pick the Cherries and help with the Fall Pear harvest.
If you get the opportunity, plan to spend an afternoon exploring and relaxing in the beautiful Inn gardens.