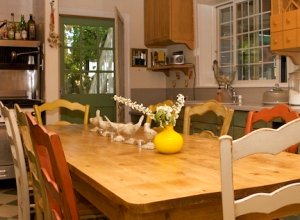 Inn Reservation and Rates
The Inn offers seven bedrooms, five with private baths and three with a shared bath, all immaculately clean, and with understated elegance and comfort. The romantic handmade iron beds are piled deep with European style comforters to snuggle under, hand-crafted quilts, and down pillows. The tiled bathrooms boast comfortable fluffy towels and spacious walk-in showers. The Methow Valley Inn's common areas include the great room with massive stone fireplace, leather sofa and comfy chairs to sink into; the sunroom, which consists almost entirely of windows; the beautiful farm style kitchen with antique pine table to gather around; the elegant, inviting dining room; and the cozy library/TV room where you can read or enjoy your favorite movie.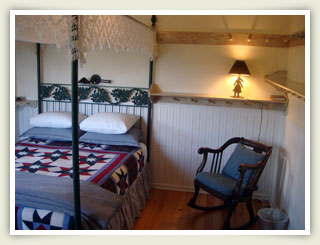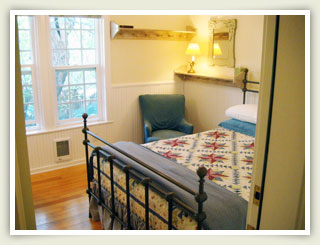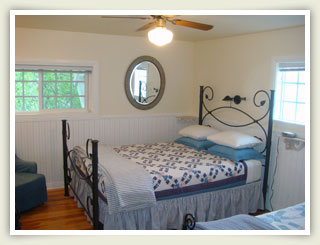 Group Vacation Rental of the Inn!
Reserve a minimum of four of the seven bedrooms (sleeping 4-9) on the 2nd floor and have the full and sole use of all of the public spaces on the first floor (see above description). Expand to include additional bedrooms depending on the size of your group (up to 18). This is a 'no-host' rental and breakfast is not provided, instead you have the use of the great farm kitchen to cook in!
The Inn is perfect for couples, families and family reunions (children are welcome as part of a group), groups of friends and business retreats.
As a group rental, the Inn can be configured with either 4, 5, 6, or 7 bedrooms, sleeping up to 15 in beds. Six of the bedrooms have Queen size beds (one with an additional Twin) and one has a Full/Double bed. Four of the bedrooms have a bathroom ensuite and three rooms have a bathroom next door on the hall.
Rates for renting the Inn for the 4 bedroom Inn option range from $500 per night (off season and mid-week) to $600 per night (high season and holidays) with additional bedrooms added at $75 to $100 per night depending on season.
3 Children's sleeping mats and bedding are also available. Please request at time of reservation.
Click Here to reserve the Inn for your group, or to learn more. You may also go to www.centralreservations.net or call Central Reservations at 1(800)422-3048 with questions.
Please Note:
There is a 2 night minimum stay for groups and individual rooms with private baths on weekends.
Reservations must be secured with Visa, Mastercard, American Express.
Rates quoted are for Inn rental and do not reflect state and local taxes of 10.2%.
Payment in full is due 30-90 days in advance of your reservation (group rental only).
Check-in is after 4pm and check-out is 11am (unless pre-arranged).
No pets please.
In consideration of others and this venerable old building, there is no smoking.
Please review all Terms and Conditions at time of reservation.