Find three friends and come to the Valley for your winter vacation now!
Winter is here and is it ever fabulous!
Come enjoy the Valley winter activities, like skiing! And snowshoeing! And fat tire biking! Whether it is snowshoeing, skate skiing, classic track skiing or downhill at the Loup Loup ski hill, the Methow Valley is the primo area to visit. We have it all. Did you know that we are the nation's largest cross-country ski area?
And this year is the best of the best as early and continuing moisture has dropped ample, glorious snow in the valley.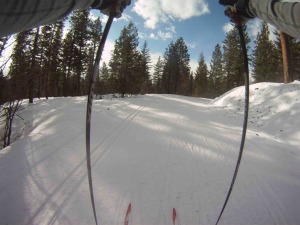 So book your ski vacation now for winter at the Inn!  And when you want to check conditions, be sure to check at http://www.methowtrails.org/winter-trails/grooming/ . Or get your free Methow Trails grooming report smartphone app at the App Store or Android Marketplace (search for Methow Trails). The grooming report is also available by calling 509-996-3860.
Let us sweeten the deal by including two free, all-day ski passes for the groomed Methow Trail System. You can play rock, paper, scissors with your friends and family to see who are the lucky beneficiaries. Regardless, we know you will all have a wonderful time!